"Each product we feature has been independently selected and reviewed by our editorial team. If you make a purchase using the links included, we may earn a commission."
We've all had bad straighteners that conk out after a few uses. Not fun! You're likely here because you want to hear about the best steam flat irons, or you've had one that was giving you a hard time and need some new recommendations.
Luckily, we've compiled a trustworthy "best of" list for you to per use.
Summary of the Best Steam Flat Irons
Best all-around steam flat iron: Steam Flat Iron by Magicfly. "My hair type is between a 4b/c…so I didn't think it would work for me but I love love love this straightener!" – VerNicia
Best Brand Name Steam Straightener: Infiniti Pro by Conair. "I don't have time to fool around before work in the mornings, so I wanted something that heated up in a minute and did one pass straightening." – seachild123
Best for Saving Time: Professional Hair Salon Steam Styler, by SOLOFISH. "…my best friend who has extremely kinky curly hair, with a traditional straightener it takes about four hours to do her hair, with this it took less than an hour!" – Jessica
Best Water Tank: Professional Hair Steam Straightener by MKBOO. "This straightener has something most of them don't and that is the 40mL water tank. I never had to stop and refill the tank." -Tina B.
Best Packaging: Steam Hair Straightener by FURIDEN. "The case is great too! It comes with a nice thermal safe liner, a slot for the cord to keep it contained, and 2 hair clips. Such a great buy!" – Ardena
Best for Travel: Steam Flat Iron Hair Straightener by xtava. "The xtava Time to Shine Steam Straightener is the perfect solution for my hair styling needs when we are on the go." – Woman of Many Roles
Best Beginner Steam Straightener: Professional Vapor Flat Iron by Kealive. "Fast heating and done your hair really fast. also u can use it as a hair curl for turning into a certain angle. this is my daily use thing now!" – Ivy
Best for Overall Design: Infrared Straightener by SWAN STAR. "This baby cut my straightening time by way more than half!! It leaves my hair perfectly straight and super shiny in minimal time." -AmandaGrace
Reviews: 8 Best Steam Flat Irons
1. Magicfly Steam Flat Iron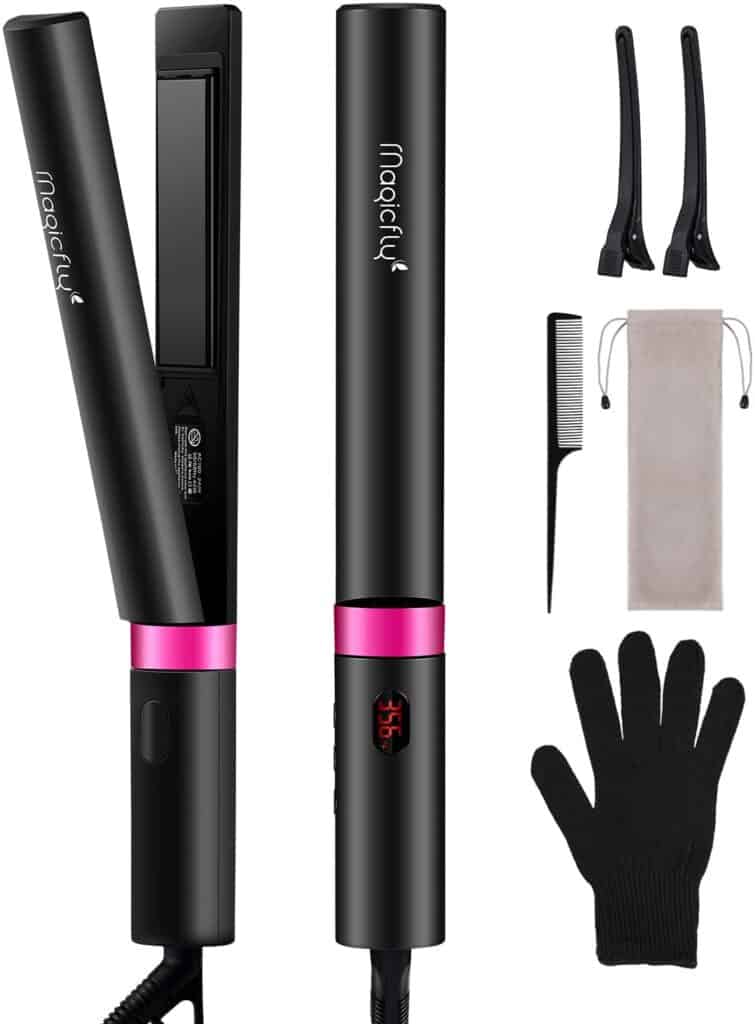 Get your hair sleek and shining without losing hours in the morning. This time-saving steam flat iron comes with a full package, ceramic tourmaline included, that will make you feel like you dropped into the salon.
Product specs
| | |
| --- | --- |
| Shipping Weight | 1.9 pounds |
| Size | Normal |
| Tank | Water only |
| Steam Settings | Off / Medium / High |
| Heat Settings | 300 / 340 / 370 / 410 / 430 / 450 |
Pros
Six different heat settings
Three steam settings
Professional grade results for natural hair
Steaming saves time
An inexpensive option with extra stuff
Cons
2. Conair Infiniti Pro Ionic Steam Flat Iron

This Conair steam straightener has a fast-acting heat up so it's ready for you the moment you need it. 
Product specs
| | |
| --- | --- |
| Shipping Weight | 1.5 pounds |
| Size | 2.5" x 5.8" x 12.5" |
| Tank | Water (distilled recommended) |
| Steam Settings | Off / Low / High |
| Heat Settings | 285 / 310 / 330 / 360 / 395 |
Pros 
Built in comb is nice, also adjusts to three different positions.
30 second heat up
Love the three steam settings
Heat settings are not too hot
Cons
Refilling the steam cup can be a little annoying
3. Solofish Professional Hair Salon Steam Styler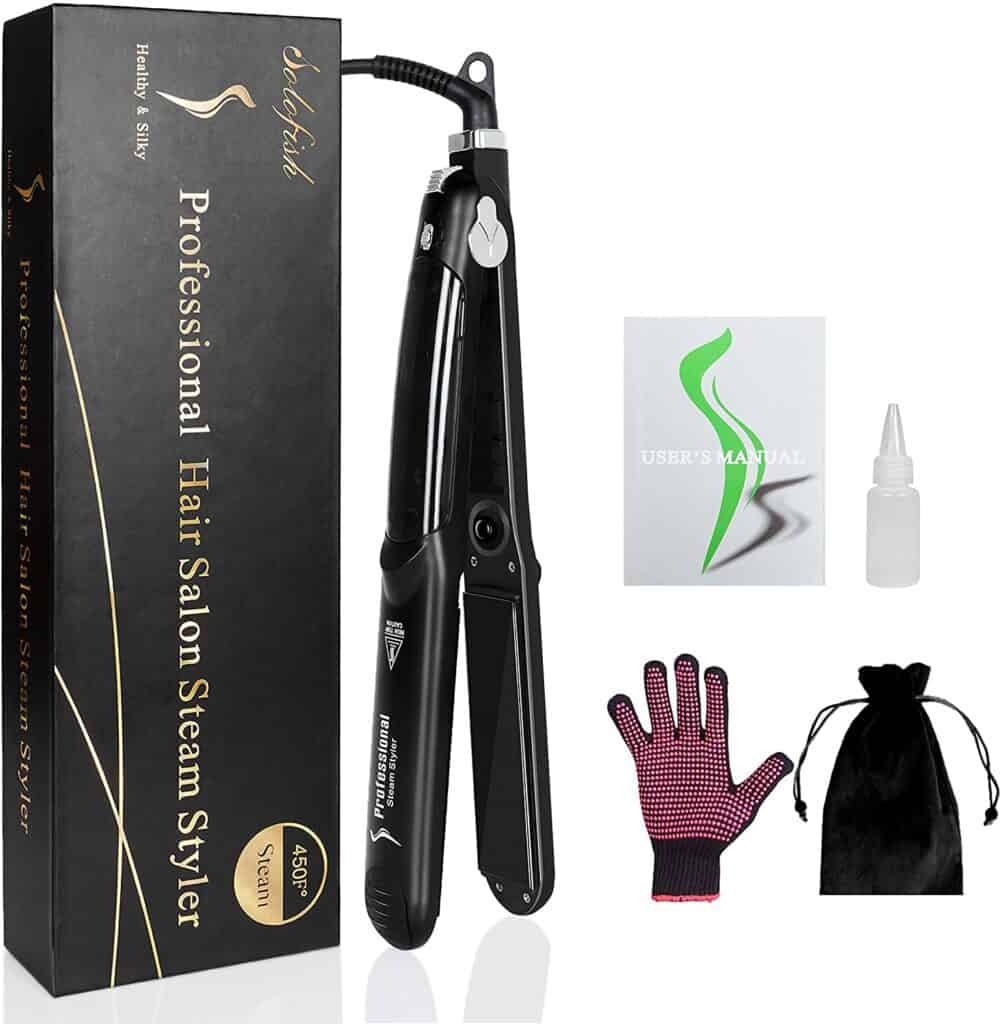 Here's a reliable steam styler that's been a pretty popular option for those who want a steam straightener that comes with all the perks. 
Product specs
| | |
| --- | --- |
| Shipping Weight | 4.6 pounds |
| Size | 2.8" x 3.2" x 14.6" |
| Tank | Water; 10 ml |
| Steam Settings | Off / Medium / High |
| Heat Settings | 300 / 340 / 370 / 410 / 450 |
Pros
Does wonders to damaged hair
The extras included make the package worth it
Lasts for days
Easy to use if you have yet to use a flat iron steamer
Better than some regular straighteners
Cons
The water reservoir is fragile, so it's something to keep in mind to ensure longevity.
4. MKBOO Professional Steam Straightener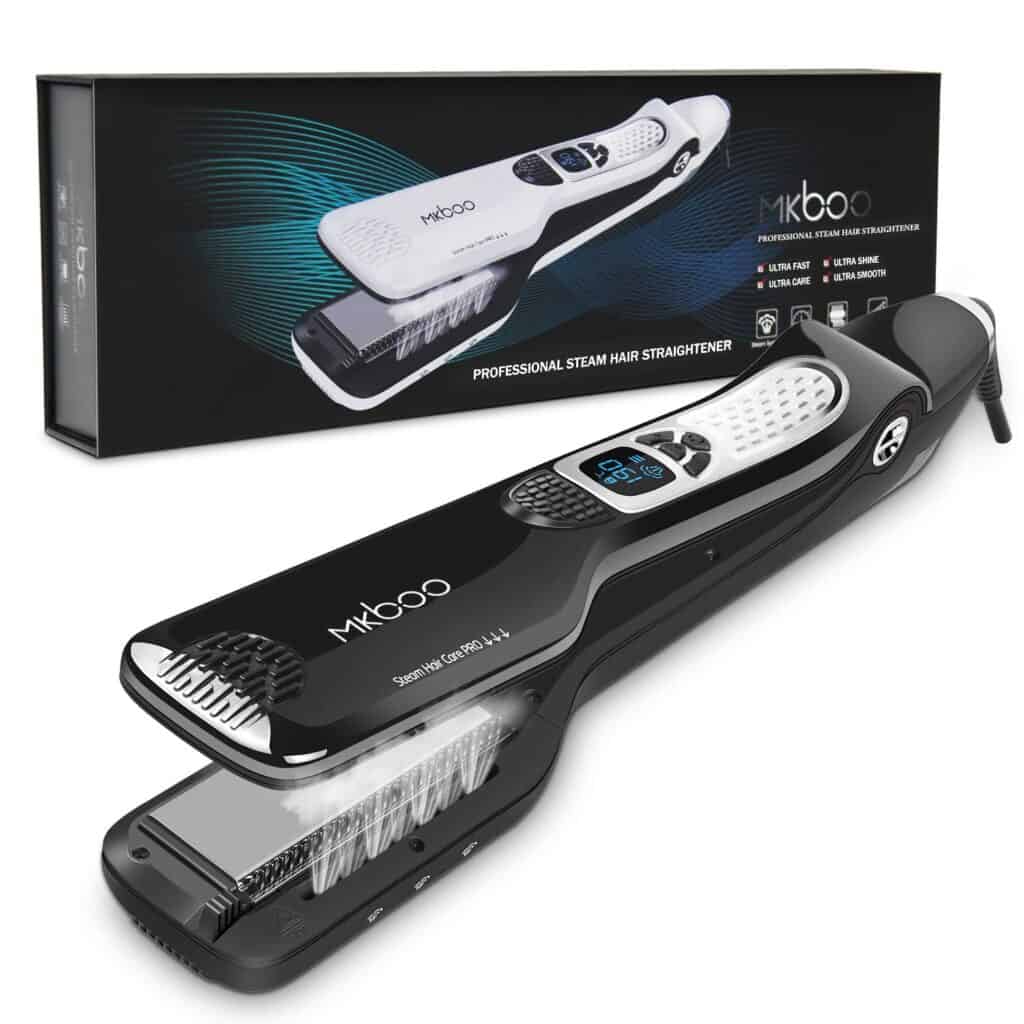 What we love about MKBOO's steam straightener is that it has a water tank that's larger than the other reviewed products. So if you're looking for a steam straightener with the best water tank, this is the one to get.
Also, this straightener works well with layered hair.
Product specs
| | |
| --- | --- |
| Shipping Weight | 2.4 pounds |
| Size | N/A |
| Tank | Water; 40 ml |
| Steam Settings | Off / On |
| Heat Settings | 300 / 340 / 375 / 410 / 450 |
Pros
Water tank is larger than other brands
Sleek design that boasts a few great features
4b and 4c African American hair looks incredible with this straightener
Cuts hair straightening time in half
A budget friendly alternative to a professional salon straightener
Cons
The comb can fall out
Heavier than other products
5. FURIDEN Steam Hair Straightener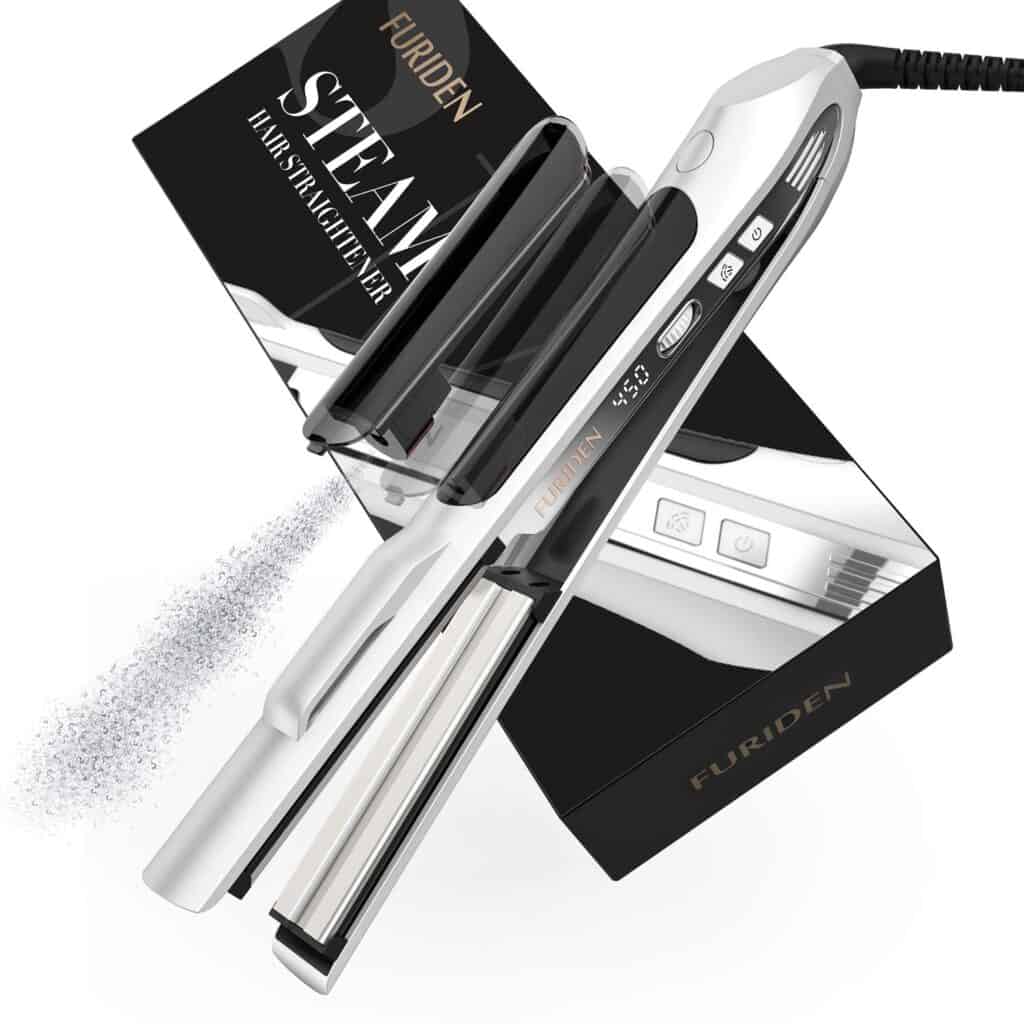 You may have noticed that a few of these steam flat irons are limited to generic white or black colors. If you love rose gold, you'll find FURIDEN's product to be a welcome match.
Product specs
| | |
| --- | --- |
| Shipping Weight | 1.8 pounds |
| Size | 12.1" x 2" x 1.6" |
| Tank | N/A |
| Steam Settings | On / Off |
| Heat Settings | Rotating Temp Adjustment (320 – 450) |
Pros
Adjustable temperature is a huge bonus
Heats up quickly and accurately
The rose gold color is familiar, yet modern
Has a lock to prevent any accidental burning, also an auto shut off.
Comes with a fun glossy case and clips
Cons
It's a bit pricier than similar items
6. xtava Steam Steam Hair Straightener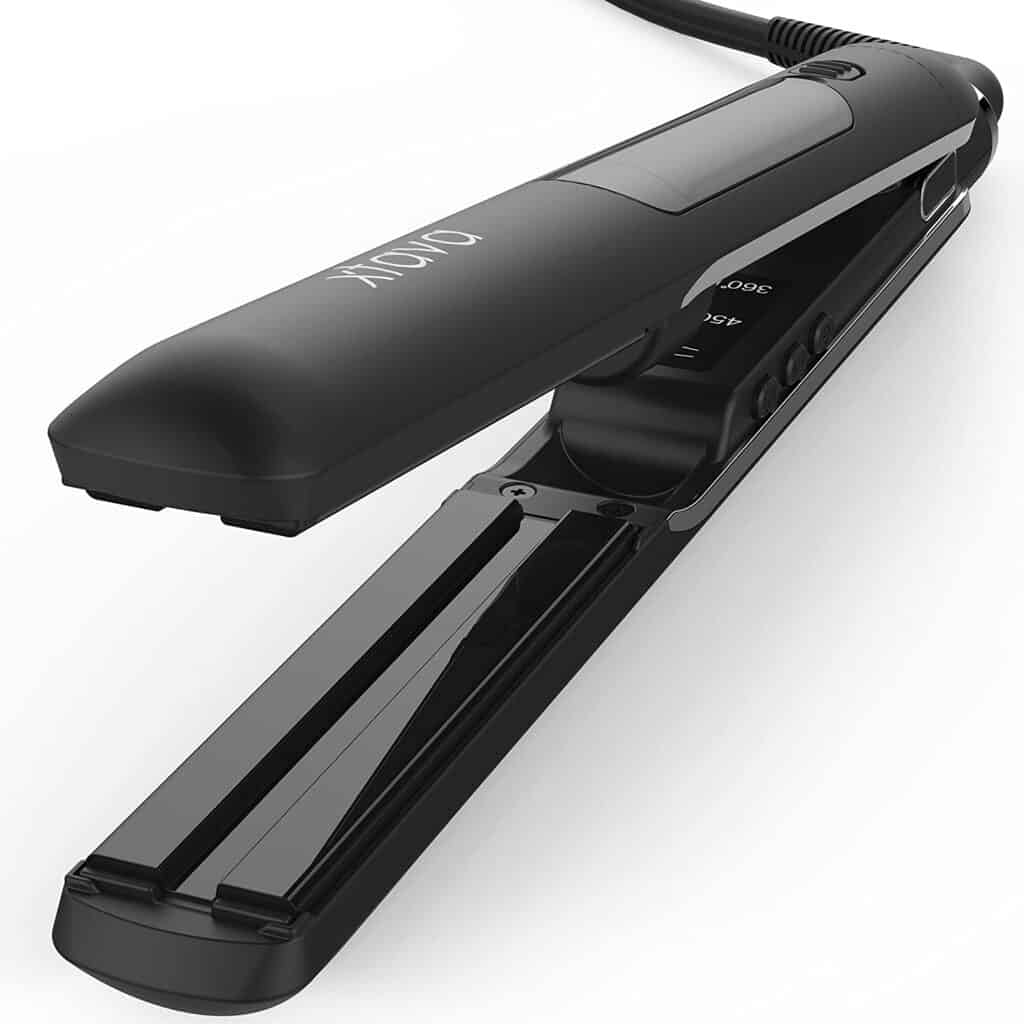 When you're on a budget, the xtava steam flat iron is an ideal snag. It's a simpler option and you might find it ideal to use as a travel straightener. 
Product specs 
| | |
| --- | --- |
| Shipping Weight | 1.6 pounds |
| Size | 11.2" x 1.2" x 1.4" |
| Tank | Water only |
| Steam Settings | NA |
| Heat Settings | 350 / 450 |
Pros
Great for travel
Its design makes curls easier to achieve
Simple settings
Inexpensive
Cons
Have to point the steamer down to activate steam, which can sometimes get tricky
7. Kealive Professional Vapor Flat Iron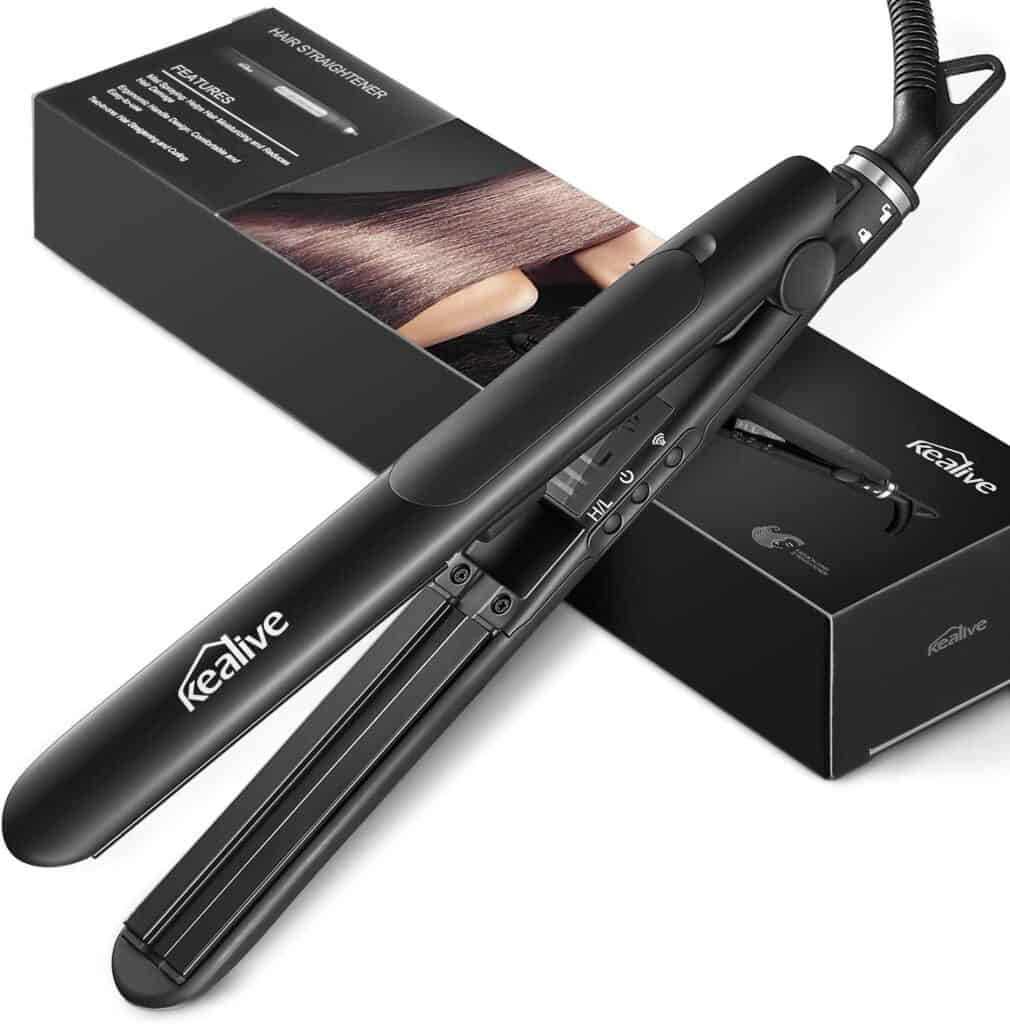 While the Kealive flat iron is one of the more simple products we've found, it does feature a few conveniences that were common with the higher-priced items.
This flat iron works well on layered hair.
Product specs
| | |
| --- | --- |
| Shipping Weight | 1.2 pounds |
| Size | 12.8" x 3.8" x 2.2" |
| Tank | Water only |
| Steam Settings | Low / High |
| Heat Settings | Low / High |
Pros
Heats up in 15-30 seconds
Lock/Unlock 360 degree swivel cord is a helpful option for those flexible moves
Floating plates keep from any uncomfortable pinching and pulling
Extra glove, clips, and water injecting bottle are nice add-ons
Cons 
Could use more accurate heat and steam settings
8. SWAN STAR Infrared Hair Straightener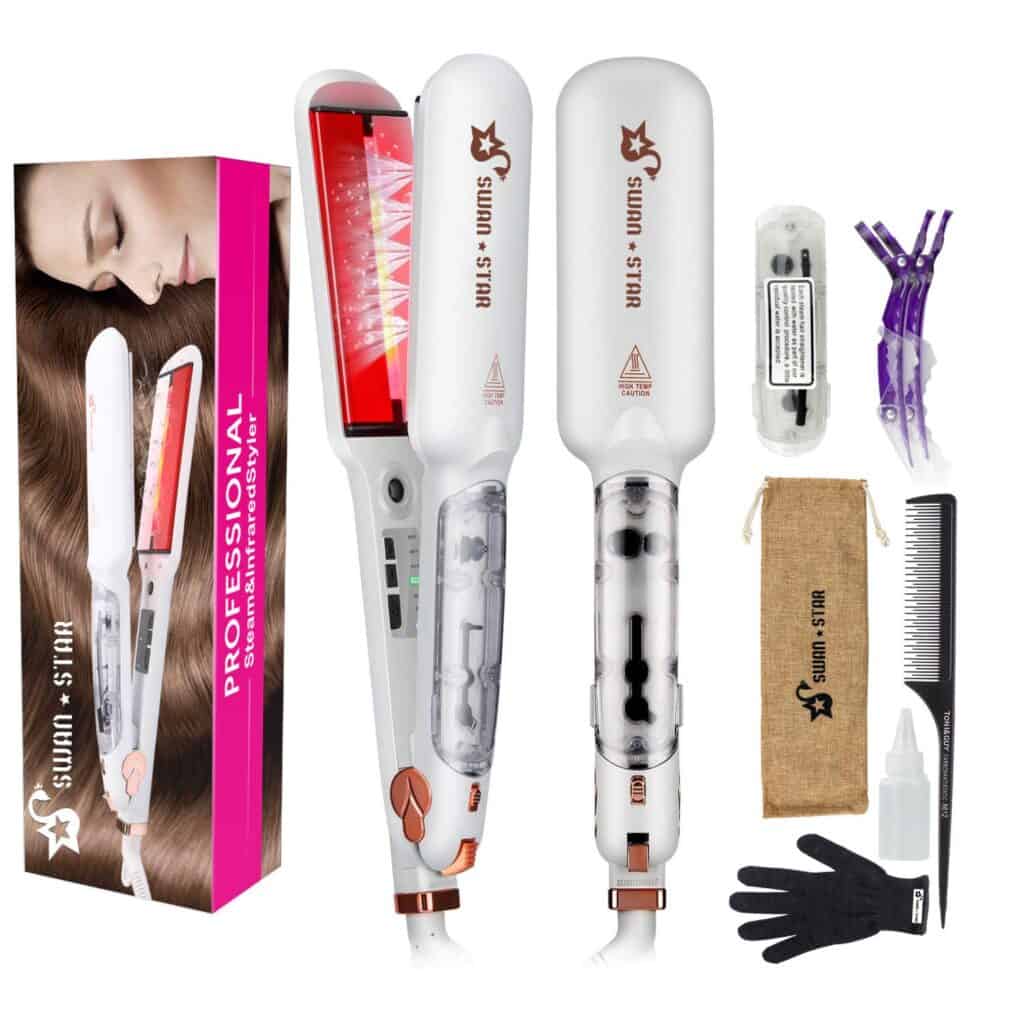 Who doesn't love a fun looking product? SWAN STAR's fast-heating ceramic tourmaline straightener is well designed and does a great job dispersing steam evenly.
Product specs
| | |
| --- | --- |
| Shipping Weight | 2.3 pounds |
| Size | 2" wide |
| Tank | Water only |
| Steam Settings | On / Off |
| Heat Settings | 300 / 340 / 370 / 410 / 430 / 450 |
Pros 
Accurate heating and very fast
Steam is evenly distributed
One pass is great
Fun colors and design
Comes with a bonus water reservoir, a couple clips, a glove, and even a bag
Cons
Water reservoir is small and can be tricky to fill
FAQs
Are steam flat irons better for your hair?
Steam flat irons and straighteners are better for your hair when you're dealing with high temperatures (450 degrees). As we add high temperatures to our hair, we want to avoid accidentally damaging our hair and what a steam straightener does is it adds moisture to avoid that problem.
What are steam hair straighteners?
Steam hair straighteners are usually regular straighteners with a steam option. When you're using your flat iron at a hotter temperature, the steam helps to maintain moisture in your hair. 
Is there a difference between a straightener and a flat iron?
There's a minor difference between the two: the biggest difference is that a straightener can be a brush whereas a flat iron relies on two flat "irons" to straighten hair. They're often marketed as one and the same but the slight difference could be what makes you prefer one product over another.
Conclusion
Now that you've gotten a better idea as to which steam flat irons are best for you, available to you, consider exactly the flat iron or straightener that fits your needs. 
If you're in the market for a different straightener or other hair related items, check out these articles: best steam flat irons, hot tools brush dryer, and best hot air brush.